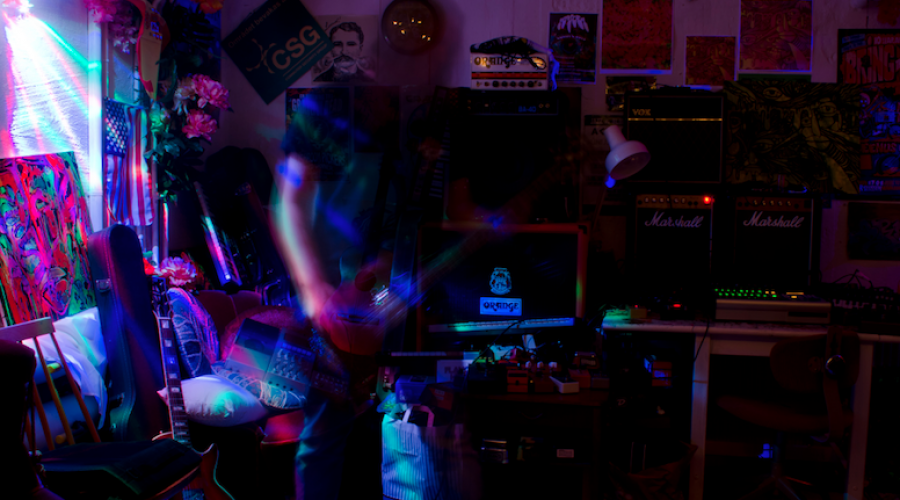 Domboshawa is the psychedelic solo project of multi-instrumentalist Anders Broström from Stockholm, Sweden. After the breakup of the hardrock/psych band Amaxa in 2015, Anders built a small studio in Hägersten and started to record drones and jams. His main goal was, and still is, to record very psychedelic music. He named the project Domboshawa after an inspiring hike on the magic mountain Domboshawa in Harare, Zimbabwe.
His first album Dark Lights was released on cassette on the Swedish label Ljudkassett! in October 2016.
In 2017 he released his first vinyl LP on Drone Rock Records titled 'Minds Electrix' . He followed that up with two digital releases, 'Vibrations' and 'Beyond Zero' which were released together on DRR as the double vinyl album, 'Beyond Vibrations'. Since then Domboshawa has gone on work with Drone Rock Records on the vinyl releases of his albums 'Fyra' and 'Mountain View'
In 2019 Domboshawa joined up with members of Fanatism, Kungens Män and CB3 to form Swedish, psychedelic 'supergroup' Svenska Psykvänner who went on to record the albums 'The Hägersten Sessions' and 'Bojda Toner', both released on vinyl through Drone Rock Records.
Now Drone Rock Records are due to release 'Efterglans', Domboshawa's fifth vinyl album, in December 2022.
Anders plays guitar, bass, drums and synthesizers.