Product Description
Release number 32 on DRR sees the welcome return of Sweden's Anders Broström (AKA Domboshawa) with his latest album, 'Fyra' (Four). Having already notched up two sold out albums on Drone Rock Records (along with the stunning Svenska Psykvänner LP, of which he was the focal point), Domboshawa has almost become the DRR house band. And it's easy to understand why when you hear his multi-instrument musicianship creating gorgeous cosmic soundscapes; blending heavy space-rock with ambient drones and tripped out instrumentals.
For this album Anders told me he chose four songs from a whole batch of recordings made last winter in his small studio in Stockholm. These four songs (hence the album title) encapsulated the different styles he was aiming for and created a real smorgasbord (I had to get that in there!) of modern psychedelic sounds.
For fans of Carlton Melton, Electric Moon, Earthless and contemporary Swedish Psychedelia.
Fyra will be released in two variants:-
Special Edition:
200 copies on blue and red swirl vinyl to match the stunning cover artwork.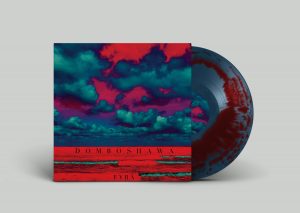 Regular Edition:
100 copies on vibrant red vinyl.