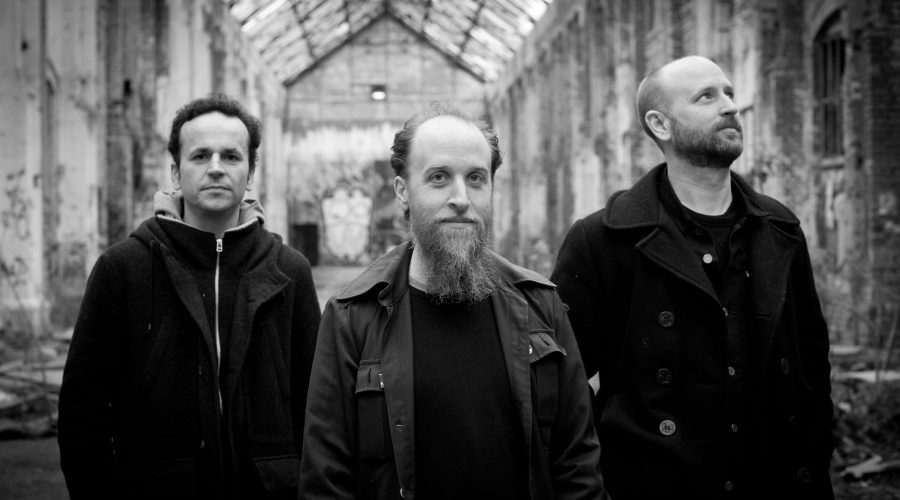 CAUDAL
http://caudal.bandcamp.com | http://facebook.com/caudaltrio | [email protected]
Biography:
Caudal is a trio of Canadian guitarist Aidan Baker, Irish bassist Gareth Sweeney, and Columbian drummer Felipe Salazar, formed in 2012 in Berlin, Germany. The trio plays 'trance punk,' combining Baker's multi-layered, heavily affected guitar with Sweeney and Salazar's motorik, propulsive rhythms, creating music which draws krautrock, mathrock, post-punk, and spacerock influences. Baker also performs solo and with the dreamsludge duo Nadja, while Salazar also plays in the no-wave trio Muerte En Pereira. Sweeney previously played with math-rock trio Gout.
Caudal released their debut album, Forever In Another World, on the environmental charity label, Oaken Palace Records, in 2013. Their second album, Ascension, was released in September 2014 by Consouling Sounds, followed by a 12" EP, Murk, on Midira Records in May 2015. They have since released the CD EP Let's All Take The Yellow Pills, on Calostro Recordings in September 2016 and the cassette EP Slope/Land on Land Animal Tapes in January 2017. The trio is currently at work on a new full-length album.
Caudal performs regularly in Berlin and to date has toured in Germany, Netherlands, Belgium, Spain, Ireland, Czech Republic, and Slovakia.
Discography:
Slope/Land – Land Animals Tapes (Cassette EP) – 2017
Let's All Take The Yellow Pills – Calostro Recordings (CD EP) – 2016 Murk – Midira Records (12" EP) – 2015
Ascension – Consouling Sounds (CD/LP) – 2014
Forever In Another World – Oaken Palace Records (LP) – 2013
Review Quotes:
"Caudal makes well-directed, gradual-evolution, steady-beat, instrumental trance-rock…There's plenty of change here, in symphonic layering of looped guitar lines over slow-to-medium rhythms and deep, repeated grooves. And the recording comes at you gently and edgelessly, like smoke; you find that you're following its movement before you made the decision to."
— Ben Ratliff, The New York Times – http://www.nytimes.com/2014/12/21/arts/music/new-albums-by-sonny-til- and-the-orioles-caudal-kos-rzmann-and-more.html
"The band plays a very minimalistic, repetitive, solemn, explosive and enveloping form of kraut rock that uses the propulsion and overdrive of post-punk to create massive and soaring gallops of pulverized psychedelic and trance-like progressive rock. This is music that makes your mind wander and get locked in to a state of surreal puzzlement as you listen, and which makes adrenaline flow through your flesh like some kind of hemorrhagic and rupturing emotional tide."
— Cvlt Nation – http://www.cvltnation.com/the-stuff-of-dreams-caudals-ascension-review-stream/
"[L]oose instrumental flow, unwinding on the languorously present bass and swelling drums as Baker's guitar accretes in multiple layers, some so processed as to sound like synth accompaniment. Hypnosis on the rising and falling tides the trio generate is the order of the day for 'Threever,' though here the tempo shifts up a gear into post-motorik mode, the bass throbbing with the sound of New York No Wave traffic pulsations as much as it does to the autobahn's sharply-defined, no-limits groove."
— Freq – http://freq.org.uk/reviews/nadja-caudal-adoran