Product Description
The first release of 2022 on Drone Rock Records is 'Sacred Ritual To Unlock The Mountain Portal', the rather impressive debut from The Hologram People. This pair of space cadets have already gained a reputation for fusing various elements of the psychedelic music spectrum and forging a unique sound of their own. The album was originally released on cassette and CD by Woodford Halse and has been crying out for the DRR vinyl treatment.
This is what the band themselves have to say about the album in their own special way:-
"What you hold before you is the artefact of a sacred ritual — one that was enacted purely as an aide for its makers, The Hologram People, as they wrestled the arduousness of awakening from what was once presumed to be an eternal slumber.
Uniting ancient wisdom with futuristic technologies, they drew power from their merging memories. From those, they forged a Sublime rite of sound-based spells that lay out their manifesto for the future.
It was this musical missive that saw these two translucent, transgalactic trippers transmogrified; once again reclaiming their rightful spot in the sonic stratosphere. These are sacrosanct rituals, the otic catalysts to our cosmic awakenings. They are the conduits through which we traverse Chapel Perilous.
The Hologram People advise no one to attempt this journey without the correct and proper physical and mental preparation. Exercise extreme caution. The Hologram People take no responsibility for follies of the unlearned.
Cosmically yours
Dreamlord & Kosmische"
"Veering through the vintage acid-kosmiche contours of Amon Düül II and Ash Ra Tempel, sublime shades of Pink Floyd's 'More' soundtrack LP, soaring near-symphonic pastoralism, voodoo space-funk and Brian Eno-meets-Tangarine Dream swirling atmospherics, Keen and Parkes clearly have great record collections to influence them"
The first pressing of 'Sacred Ritual To Unlock The Mountain Portal' will be a released on 'Psychedelic Dawn' orange and aqua marine 'Galaxy Effect' vinyl:-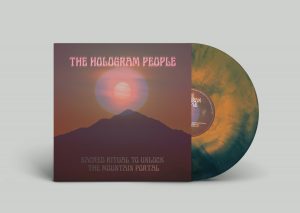 All orders made via the DRR website come with an instant digital download link.