Product Description
Portuguese (but London-based) trio Madmess got in touch with me out of the blue at the end of last year and I am so, so glad they did. They were pointed in my direction by the lovely lads from Gnob after they played a gig together and realised  they shared a lot of influences. This debut, self-titled LP is powerful psych/stoner-rock of the highest order and I was blown away by it on first listen and its four immense tracks have been on constant rotation ever since at DRR HQ. I'm obviously not alone in my love for these guys and they have duly been noticed and were added to the bills of At The Centre of the Universe Festival in London and Douro Jam in Portugal (before the Cornona virus changed everything).
For fans of Earthless, Gnob and Sabbath.
The Madmess LP will be released in two variants:-
Special edition:
200 copies on clear vinyl with gold, black and cream splatter effects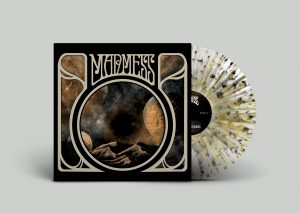 Regular edition:
100 copies on cream coloured vinyl.