Product Description
As the label keeps rolling along I am finding that I am ticking off more and more things from the wish list that I drew up when I first started it. Putting out a release by Eat Lights;Become Lights was certainly something I hoped would happen someday and now that day has come. Tick! I have been an avid fan of the band since their debut LP, 'Autopia' came out back in 2011. This wonderful album hinted at the motorik/Kosmiche bliss that was to follow on their next five studio albums. But it was their live performances that I was particularly drawn to and I have been fortunate to witness the band play live on several occasions in London and in Brighton. I now find myself in the privileged position of being able to share with you an excellent example of their live prowess, a show recorded at the Windmill in Brixton back in 2013 as part of the Northern Star Records Weekender. Featuring five epic tracks from their aforementioned debut LP and the follow-up, 'Heavy Electrics', this live album captures the band in top form at full throttle.
'Live' will be released in two variants:-
Special edition:
200 copies on transparent purple vinyl with heavy white splatter effects.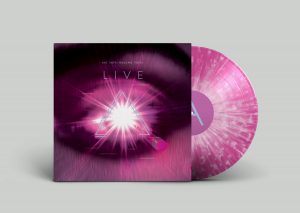 Regular edition:
100 copies on pink vinyl.