Product Description
In the three years since the last vinyl release by Ukrainian psych act, Sex Blender, a hell of a lot has happened to the band and their country. The invasion of Ukraine has been a waking nightmare for the whole country leading to ordinary citizens taking up arms to defend their homeland in the war they never thought they would be fighting. In fact, Yurko, the band's guitarist, volunteered to help in his country's defence effort and has been on the frontline in the East of Ukraine pretty much since war broke out. It is a position he really shouldn't be in and one that most of us couldn't even imagine.
As for the record itself, it is live album recorded back in the Summer of 2021 featuring music from their two vinyl albums released previously on DRR ('Hormonizer' released in 2019 and 'The Second Coming' from 2020) plus a new track. The digital download you get when purchasing the vinyl record through the DRR website comes with an extra two tracks taken from the same live recordings. The band describe the record and the time in which the tracks were played and recorded as:-
"Summer '21 was full of joy and good vibes which we have recorded and captured forever on this live album. This record is a reminder of a happier, peaceful time that will we hopefully return back to soon. A massive thank you to all the brave soldiers and citizens of our homeland, Ukraine. Our thoughts are especially with our guitarist, Yurko, who is fighting on the frontline."
This Live Sex Blender album will be a limited pressing of 250 copies pressed on blue and yellow split coloured vinyl matching the colours of the Ukrainian flag.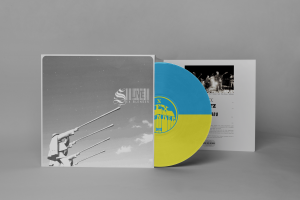 25% of the profits from this release will be donated to the charity, Musicians Defend Ukraine, which was set up specifically to help musicians and band members just like Yurko who were forced to suspend their musical activities to become volunteers , doctors or join the Ukrainian Armed Forces. Their goal is to keep as many artists and musicians alive by providing humanitarian help; medicine, heat and power generating equipment, medical rescue equipment and much more. Find out more about the charity and their efforts head over to their website here:-
www.musiciansdefendukraine.com/en