Product Description
The next and final release of 2019 on Drone Rock Records is really rather special indeed. 'Enter The Bend' by DDT (Dieter, Duvall and Taibi), a brand new project featuring members (past and present) from two of my favourite modern psych acts… Carlton Melton and White Manna. Over the last few years I have pretty much accumulated the entire vinyl back catalogue of both bands and have been fortunate to have seen them live here in the UK on several occasions, including one extraordinary  show in Brighton where they both played on the same bill. I can honestly say that they played a major role in inspiring me to set up the label.
'Enter the Bend' hints at the sound of both bands, while incorporating more drones and a heavier, experimental sound. It is a total privilege to bring this album to you, which seamlessly fits into the DRR catalogue. For fans of Sun Araw, Magic Lantern and (obviously) White Manna & Carlton Melton.
'…sounds that are going to thrill you, pound you and take you off on vignettes of astral journeys. DDT deliver an album that pulses, beats, riffs and drones its way into your record collection'
The Fragmented Flaneur
Special edition:
300 copies on 'Multiple Greens' vinyl. Green swirl effect with green splatters. Comes with full colour insert.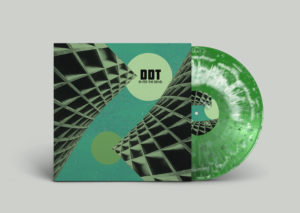 Regular edition:
200 copies on classic black wax with full colour insert.