Product Description
For the 14th release on Drone Rock Records we welcome East London based trio, Gnob, to the ever-expanding Drone Rock family. I saw these guys support Kill West in Brighton last year and I was so blown away that I spoke to them immediately after the show about the possibility of releasing a record with them. And now, 8 months after that super impressive gig I am pleased to reveal their debut album, "Electric Dream Demon". 9 ear-shredding tracks encompassing elements of eastern-influenced psych,  stoner-rock and super heavy riffs this album really captures the power of the bands live performances. The album has been given the mastering treatment by John McBain who, I am sure, most of you will be familiar with from his work in Monster Magnet and with Carlton Melton and Kandodo.
"'Electric Dream Demon' is an album of monumental stature….rich with exotic flavours and exhilarating power but all done with subtlety and craft."
Dayz Of Purple & Orange
"'Electric Demon Dream' is like dropping a sonic psychedelic as the music gradually slips out of its cultural moorings and into areas that feel less familiar and more fluid."
Psych Insight
Like most Drone Rock releases, "Electric Dream Demon" will be a super limited run of 300 copies (with 60 of these going directly to the band) split into two variants:-
Special Edition
150 copies pressed on green and purple side a/side b split-coloured vinyl. As always, these will be offered to mailing-list subscribers and previous customers first.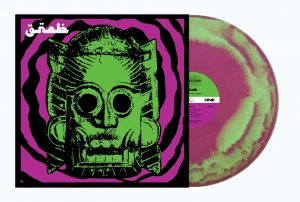 Regular Edition
150 copies pressed on purple vinyl