Product Description
Having previously released albums by bands from Argentina (Kill West) and Peru (Culto Al Qondor), the next stop on the Drone Rock Records tour of South America is Chile. Already known as a hot-bed of amazing modern psychedlic music (think Follakzoid, Holydrug Couple, Chicos De Nazca), 'Atlantis Mirage' by Los Tabanos Experience only enhances that reputation.
In the words of the band themselves "the music of Los Tabanos Experience walks between space rock, heavy psychedelia and improvised jams" and I don't think I could sum it up better myself. This is South American stoner-rock at its finest.
"The sonic-chefs of Los Tabanos Experience brings their flavours straight from Santiago, Chile, composed and improvised live in the cookroom. For any connossieur in the free forms of heavy psychedelic rock, this is a real succulent treat not to be missed. Get wet, goodfolks!"
Sly Vinyl
Super limited pressing of 250 records, availble in two variants:-
150 copies pressed on psychedelic sea coloured vinyl (blue and green side a/b coloured effect)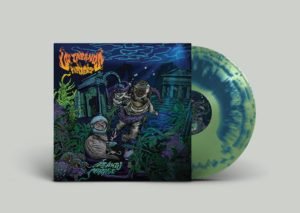 Regular Edition
100 copies pressed on sea-foam coloured vinyl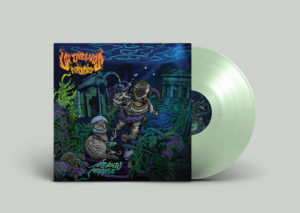 Records purchased through the Drone Rock Records website come with an instant download with 2 extra tracks.
PLEASE NOTE: THIS IS A PRE-ORDER. THE RECORDS ARE NOT DUE TO ARRIVE WITH ME UNTIL 11TH JANUARY AND I WILL THEN COMMENCE SHIPPING ORDERS THE WEEK COMMENCING 14TH JANUARY.